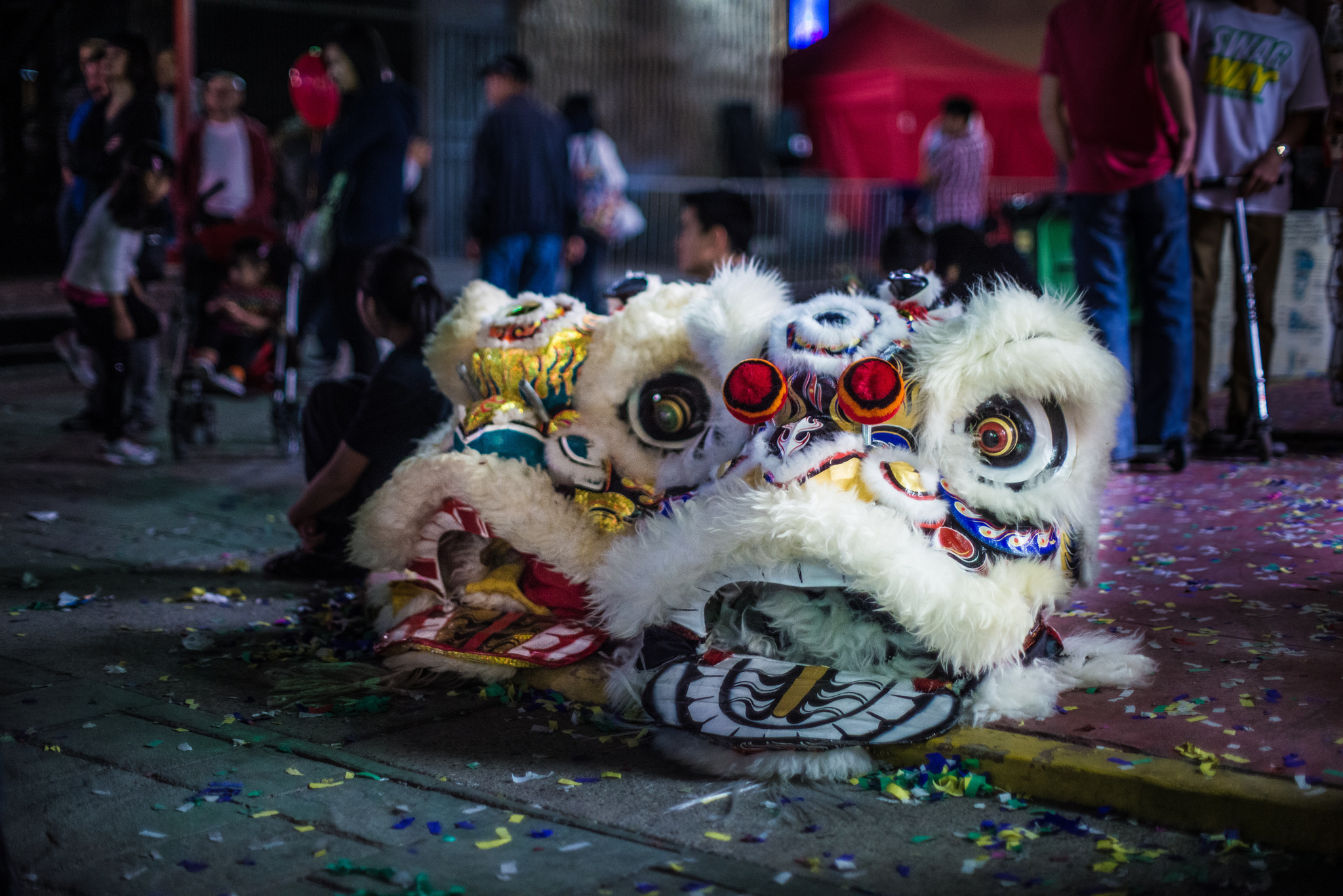 Plan out your month with the city's best concerts, culture, cuisine and more.
THINGS TO DO
Feb 2
Daybreaker L.A.: In Love & Light; Joseph's Cafe
Dance and do yoga, and stept in a "Love Dome" with falling roses and a harpist and this pre-dawn party.
Feb 2
First Fridays at the Natural History Museum; Natural History Museum
Dance among the dinosaurs at this season opener of the monthly party and lecture series.
Feb 2
Love is in the Air hosted by OUE Skyspace LA; OUE Skyspace LA
Ride up to the 70th floor for an evening of romantic sips, sweets and treats.
Feb 3, 4
Chinese New Year Festival in Monterey Park; Downtown Monterey Park
Ring in the Lunar New Year in the real heart of L.A.'s Chinese community at this annual two-day Monterey Park festival.
Feb 9–11
California International Antiquarian Book Fair; Pasadena Convention Center
Shop and browse five centuries of rare volumes at this annual exhibition, which this year celebrates the 200th anniversary of Mary Shelley's Frankenstein.
Feb 10
Cupid's Undie Run; The Victorian
Dart around Santa Monica in your undies—for a good cause, of course—at this annual V-Day-themed run.
Feb 10
Edwardian Ball; Globe Theatre
Celebrate the macabre work of writer and illustrator Edward Gorey at this off-kilter costume party and dance.
Feb 14, 15
Lucha VaVOOM: Ooh La La Lucha!; Mayan
Add some sexo y violencia to your Valentine's Day celebrations at this wrestling-meets-burlesque show.
Feb 16–18
NBA All-Star; Various locations
See the NBA's leading players, up-and-comers and celebrities compete during a weekend of challenges and festivities
Feb 17
Golden Dragon Parade & Chinese New Year Festival; Chinatown Central Plaza
Participate in one of L.A.'s oldest traditions as the 119th parade steps off in Chinatown.
Feb 22–25
QuiltCon; Pasadena Convention Center
Take sewing workshops and view lectures at this modern quilt show for design lovers.
Feb 24
Bob Baker Day; Bob Baker Marionette Theater
Mark the late Bob Baker's 94th birthday with an afternoon of puppet shows, live music, comedy and more.
Feb 24, 25
L.A. Chinatown Firecracker Run; Chinatown Central Plaza
Participate in a 5K or 10K run or walk as well as a 20 or 30-plus mile bike ride during this Chinatown tradition.
Find more things to do in our February 2018 events calendar.
FOOD & DRINK
Feb 4
Super Vegan Sunday at Smorgasburg L.A.; ROW DTLA
Pig out ahead of the Super Bowl with more than a dozen different vegan vendors, plus meat-and-dairy-free bites around the rest of the weekly market.
Feb 10
Disco Dining Club's 3 Year Anniversary Gala; The Deco Building
Ring in the third anniversary of one of L.A.'s most outlandish and colorful dining events at Disco Dining Club's "Hall of Mirrors" food and dance fest.
Feb 10, 11
L.A. Cookie Con & Sweets Show; Anaheim Convention Center
Round up your fellow sugarholics and head to this cookie-and-candy-laden convention for a serious sugar rush.
Feb 14
Valentine 69 at Melody; Melody
Cozy up to your date with a dozen oysters and a bottle of wine for $69 (heh).
Feb 23
Autry Flavors – The Urban Chuck Wagon: 100 Years of Food Truck Fare;
Git along, li'l doggie, with an entire century's worth of food truck history at the Autry Museum's Flavors series.
ARTS & CULTURE
Feb 3
Demetri Martin; The Theatre at Ace Hotel
The mop-topped comic comes Downtown with one-liners and charts in tow.
Feb 5
Pop-Up Magazine; The Theatre at Ace Hotel
See a selection of writers, artists, photographers and filmmakers premiere new works at this live magazine experience.
Feb 6–May 6
"Harald Szeemann: Museum of Obsessions"; Getty Center
Discover how the avant-garde-leaning curator came to redefine exhibition-making. A satellite show at ICA LA (Feb 4–Apr 22) includes a re-created installation of inventions by Szeemann's grandfather.
Feb 10–May 13
"Jasper Johns: 'Something Resembling Truth'"; The Broad
Discover Jasper Johns's beewax and found-object collages with over 100 of the artist's most iconic and significant paintings, sculptures, prints and drawings, many of which are on display for the first time in Los Angeles.
Feb 10
Mortified Doomed Valentine's Show; Wanderlust Hollywood
Hear stories of past V-Days gone wrong during a night full of beer, wine and inappropriate tales all around.
Feb 11–25
The Dialectic of the Stars; Various locations
Step into a free visual art and performance festival at five unique L.A. venues, featuring works by 19 emerging and established French and American artists and collectives.
Feb 16, 17
Chocolate and Art Show; The Vortex
Check out three nights of up-and-coming artists, photographers and creators alongside some sweet, sweet free chocolate.
Feb 17–Apr 1
"Geta Brătescu: The Leaps of Aesop"; Hauser & Wirth Los Angeles
The artist's first solo presentation in L.A. showcases the disruptive and literary-inspired 91-year-old forerunner in the field of Romanian Conceptualism.
Feb 25–May 13
"Dora De Larios: Other Worlds"; Beta Main
Welcome the work-in-progress Main Museum's new mazzanine gallery space with a walk through this selection of ceramic pieces from the late Boyle-Heights-born artist's six-decade career.
FILM
Feb 9–14
Lady and the Tramp screening; El Capitan
Share a spaghetti kiss during a pre-show candlelit dinner at these Valentine's Day screenings.
Feb 14
Roman Holiday screening; Los Angeles Theatre
See the near-perfect Audrey Hepburn romcom during a Cinespia-presented screening complete with complimentary champagne.
Feb 25
AirTalk's FilmWeek Oscar Preview; The Theatre at Ace Hotel
Gain expert insight into the upcoming Oscars and hear critics debate who's likely to take home an Oscar.
Feb 26
Women in Film Speaker Series; West Hollywood Public Library
The picture isn't as bright as it could be for female filmmakers in this town. Be part of the change at this seminar with industry leaders.
MUSIC & NIGHTLIFE
Feb 1–3
Allah-Las; Lodge Room
The local quarter combines the West Coast psychedelic sound of the Doors with garage rock and R&B.
Feb 2–4
Girlschool; Bootleg Theater
Celebrate women's voices at this completely female-fronted festival, with sets from Shirley Manson and Amber Coffman, plus a conversation with Carrie Brownstein.
Feb 3
Passion Pit; Belasco Theater
Amid chirpy, anthemic choruses and gentle ballads, Michael Angelakos outshines previous LPs with a sense of joy and freedom.
Feb 14
Cuco; El Rey Theatre
The local teenage heartthrob takes his laid-back synths, Chicano roots and bilingual rhymes from small clubs to this theater-sized stage.
Feb 14
M. Ward; Lodge Room
See the gravelly singer-songwriter and guitarist performs songs from Billie Holiday's "Lady in Satin."
Feb 14
The Piano Recital; The Regent Theater
Listen to intimate solo piano compositions played by the likes of the Hush Sound's Greta Morgan, Guster's Ryan Miller, Fruit Bats' Eric D. Johnson and soulful singer-songwriter Kevin Morby.
Feb 14
Valentine's Day Village of Love Planned Parenthood Benefit Concert; Teragram Ballroom
See Nick Waterhouse, Best Coast and Ty Segall top this Planned Parenthood benefit on Valentine's Day.
Feb 17
Dan Auerbach; The Wiltern
The Black Keys' gruff singer and guitarist presents a set of feel-good, rootsy solo songs.
Feb 17
Queens of the Stone Age; The Forum
Josh Homme and his thrillingly intense band stir up their irresistibly sexy mixture of desert rock, blues, stoner metal and grunge.
Feb 20
Shamir; Teragram Ballroom
The young singer raps and coos on top of disco- and house-inspired hip-hop beats with a style that recalls Prince and Grace Jones.
Feb 22, 23
Superchunk; Moroccan Lounge • Teragram Ballroom
The beloved indie-rock icons play a pair of intimate shows following the release of their 11th album.
Feb 24, 25
Women Fuck Shit Up Fest; The Smell • Five Star Bar
Rock out and raise awareness for social issues at this women-empowering fest featuring local up-and-comers.
Find more shows in our February 2018 concert calendar.
THEATER
Through Feb 18
Candide; Dorothy Chandler Pavilion
Embark on a round-the-world romp as the opera continues its run at the Dorothy Chandler Pavilion.
Through Feb 11
Luzia; Dodger Stadium
For Cirque du Soleil's latest spectacle, the French-Canadian circus troupe looks south to Mexico for inspiration.
Through Feb 4
Picasso at the Lapin Agile; Norris Theatre
Picasso and Einstein meet in a Paris bar, predict the future and decide who the next famous genius of the 20th century will be.
Feb 8–11
Great Expectations; Wallis Annenberg Center for the Performing Arts
We get one of British literature's most memorable stories when a young orphan meets an escaped convict.
Feb 8–Mar 24
The New Colossus; The Actors' Gang at the Ivy Substation
In this world premiere, members of the Actors' Gang theater company tell the stories of their refugee ancestors, from 200 years ago to the present. Tim Robbins directs.
Feb 9–Mar 18
A Walk in the Woods; Actors Co-op
Two arms negotiators—one Russian, one American—head out of the caucus room and into the forest.
Feb 9–Mar 4
The Flying Lovers of Vitebsk; Wallis Annenberg Center for the Performing Arts
This vibrantly visual story tells of Marc and Bella Chagall, deeply in love and deeply affected by anti-Jewish riots and the Russian Revolution.
Feb 9–Mar 4
Million Dollar Quartet; 3-D Theatricals at Redondo Beach Performing ArtsCenter • Cerritos Center for the Performing Arts
This jukebox musical takes place at Sun Studio in Memphis on December 4, 1956 as Elvis Presley, Johnny Cash, Carl Perkins and the upstart Jerry Lee Lewis happen to record on the same day.
Feb 10–Mar 10
An Illegal Start; Santa Monica Pier
Unspin the tale of an unlikely friendship as the Santa Monica Public Theatre stages this performance on the merry-go-round at the Santa Monica Pier.
Feb 22–Apr 1
Allegiance; Aratani Theatre
When a Japanese family is interned during WWII, a brother fights for the U.S. while his sister protests.
Feb 27–Mar 7
Sell/Buy/Date; Geffen Playhouse
In the future, a British university professor lectures on the experiences (based on true stories) of people in or affected by the sex industry.
SHOPPING & STYLE
Feb 14
DIY Corsages and Boutaineers; Upstairs
Get gussied up before your night out and make your own corsage or boutonniere with the assistance of flower lady Renee Steckermeier.
Source: Lifestyle