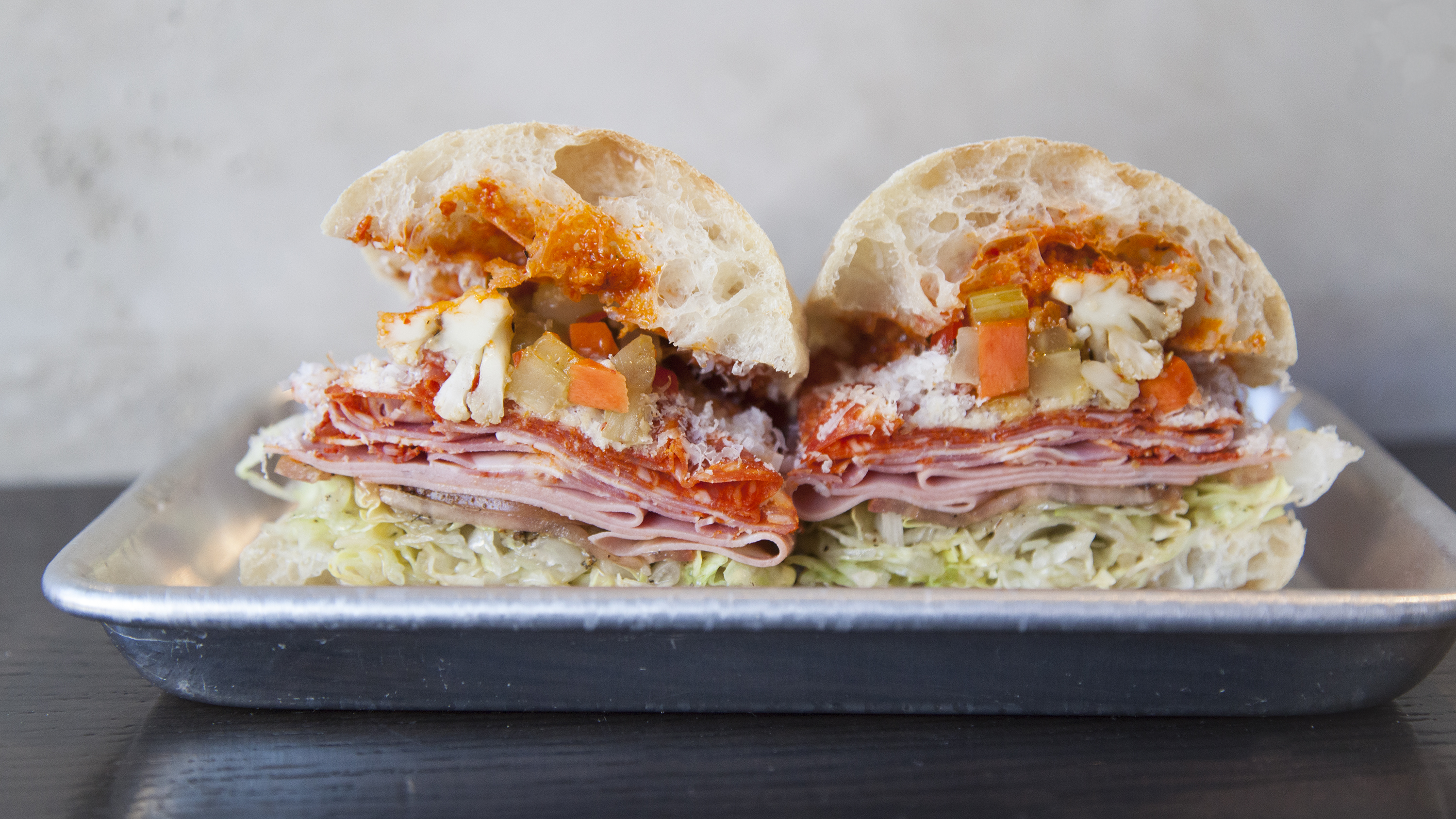 Joel Miller and Dave Fernie are building the soigné deli sandwiches of our dreams.
Their spicy Italian giardiniera is made in-house, their potato salad features Spanish-style salt-crusted potatoes and the gourmet meats they slice come from as near as Inglewood's Rocker Bros. and as far as Spain, where they're sourcing the spicy chorizo that's slathered all over E Stretto's early favorite, the Ill Papa.
"This is like our version of a slightly elevated East Coast deli," says Fernie, a force behind a handful of 213 Hospitality concepts. Yesterday, in a partnership with Miller—the executive chef of the Wallace—he launched E Stretto: the casual sandwich shop at the front of Downtown's Bar Clacson. And, to say the least, it's tight.
What's in a name? "E stretto" is more or less the Italian translation of "it's tight," which is more or less the ethos of the duo's new spot: fun vibes, killer sandwiches, beer, wine and a patio right on Broadway.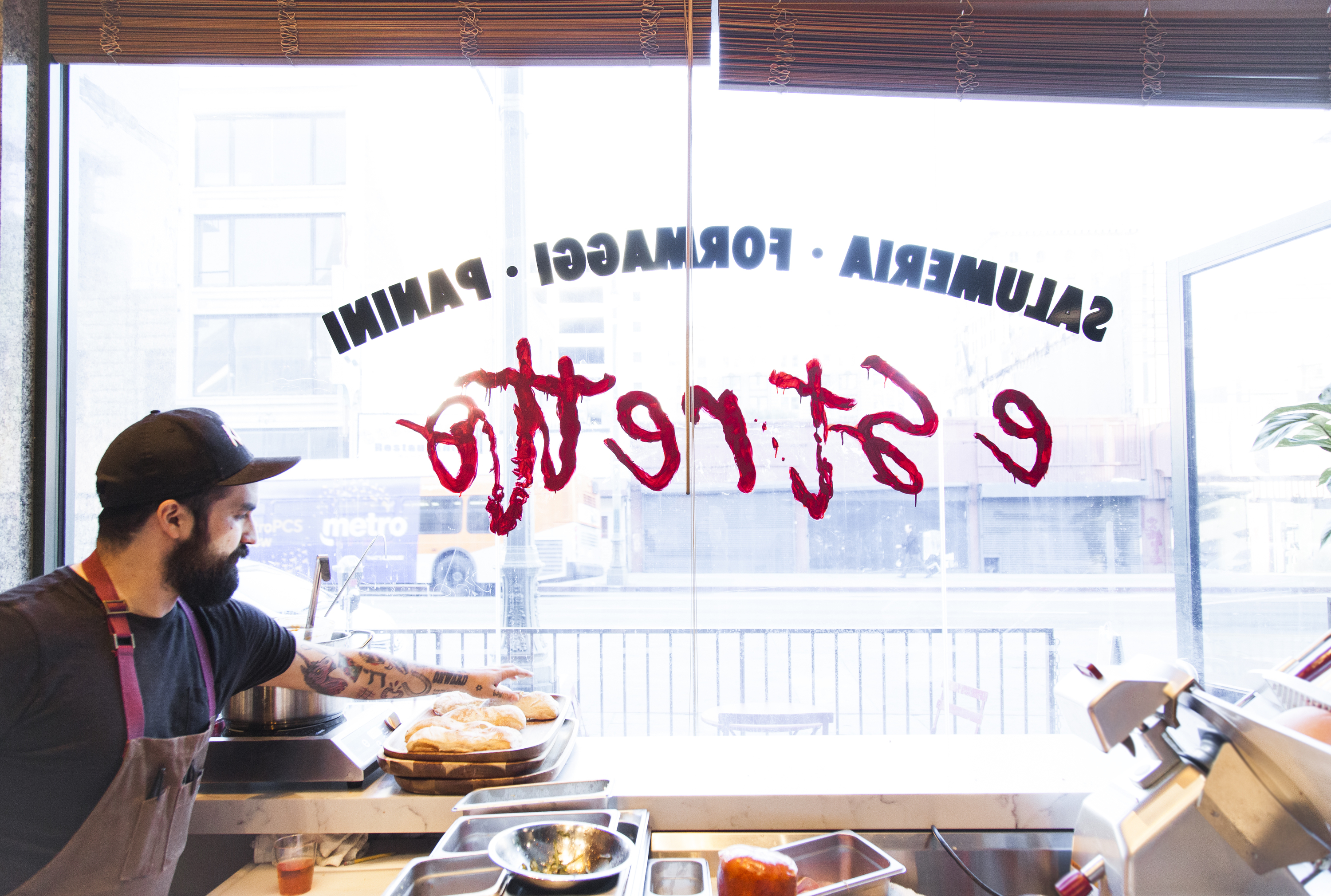 "I think that's what this place and what most places are missing: Where can you day-drink really solid, good, natural wines, especially outside on a patio?" asks Miller. "We want that to be a part of the culture, too: Not just tight sandwiches, but tight wines."
The eight-inch, stacked ciabatta sandwiches run the gamut, from the meat-heavy Ill Papa—sporting mortadella, capicola, chorizo and manchego with the works—to the vegan marinated-artichoke option, which involves mushroom pâté, balsamic, mozz, arugula and olive oil. There are also a handful of salads, sides and charcuterie and cheese plates.
Beer selections will remain limited (it's a separate menu from Bar Clacson; at opening, there's just Peroni and Orion lagers) while a larger menu of low-intervention wines from cool, independent importers such as Sacred Thirst Selections Black Lamb Wine will rotate constantly.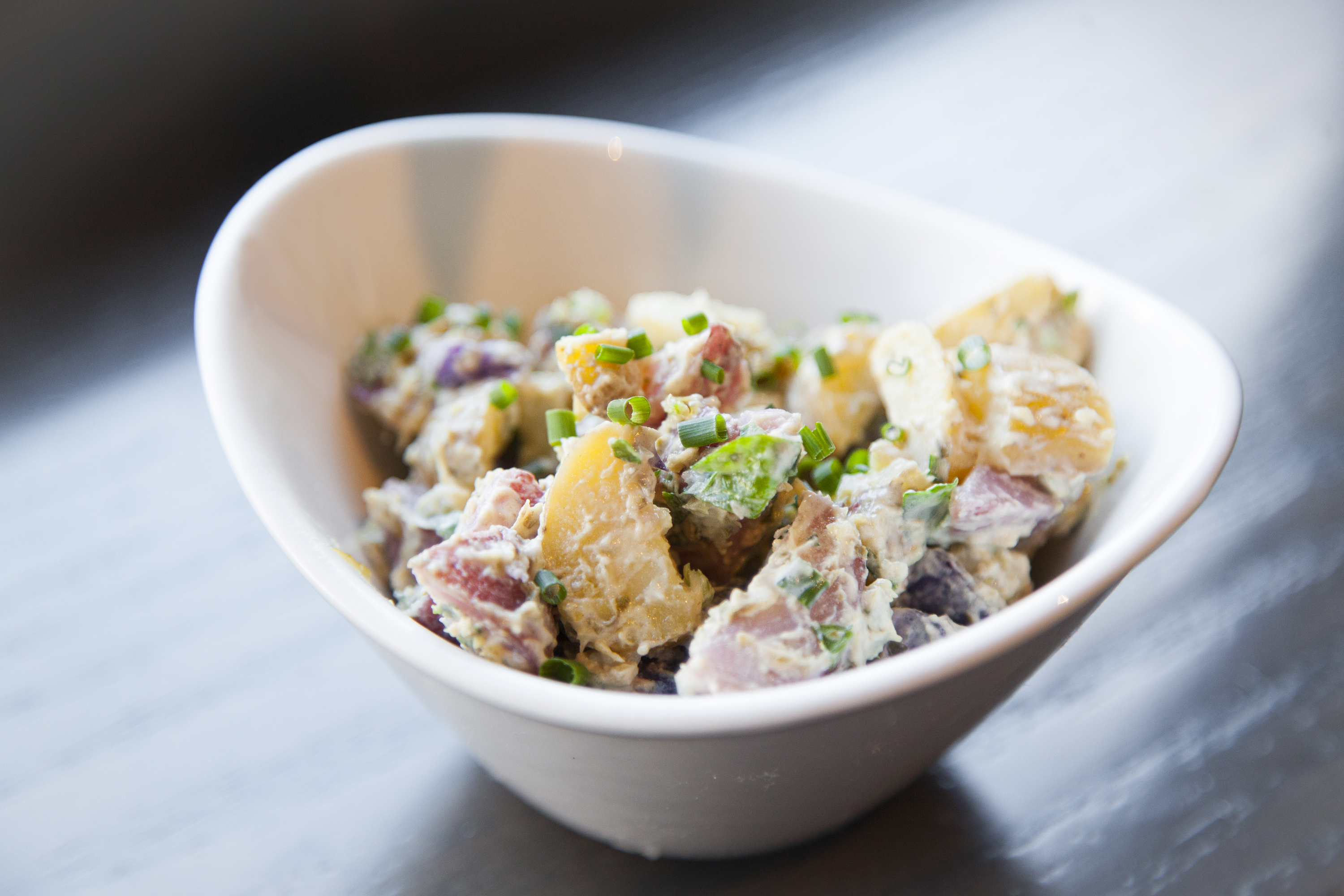 "I'd love for it to be sandwiches during the day, then at night, turn into more of a wine bar," says Miller. "You'll have people on staff who are knowledgable and passionate about wine, so every bar [on the property] has its own identity."
Bar Clacson—a Time Out L.A. Bar Awards winner—focuses on Italian-leaning classic cocktails and aperitivo, while its attached speakeasy, the NYC-punk–inspired Slipper Clutch, slings highballs set to the soundtrack of pinball machines pinging away. With E Stretto, now you can stop by in the daytime for a solid sandwich and natural wine, or grab a bite in the evening and enjoy it in one of the other two concepts in the building.
E Stretto is currently soft-open, meaning their hours are limited (11am until they sell out) but look for extended hours beginning next Tuesday, January 8. Also keep an eye out for eventual additions like namesake items ("the Joel," "the Dave") or a sandwich of the day. The space will evolve, too: There are plans for a good-humored ice cream throwback, like a freezer stocked with old-school strawberry shortcake and gumball-eyed character pops.
For Downtown's business crowd and residents, Miller and Fernie are already scheming at least two breakfast items: their take on a bacon, egg and cheese, and a breakfast burrito that features cheese sauce, salt-baked potatoes, bacon and eggs (and with that change, earlier hours—maybe brunch service, maybe weekday breakfast).
Whatever they decide, it'll probably be tight.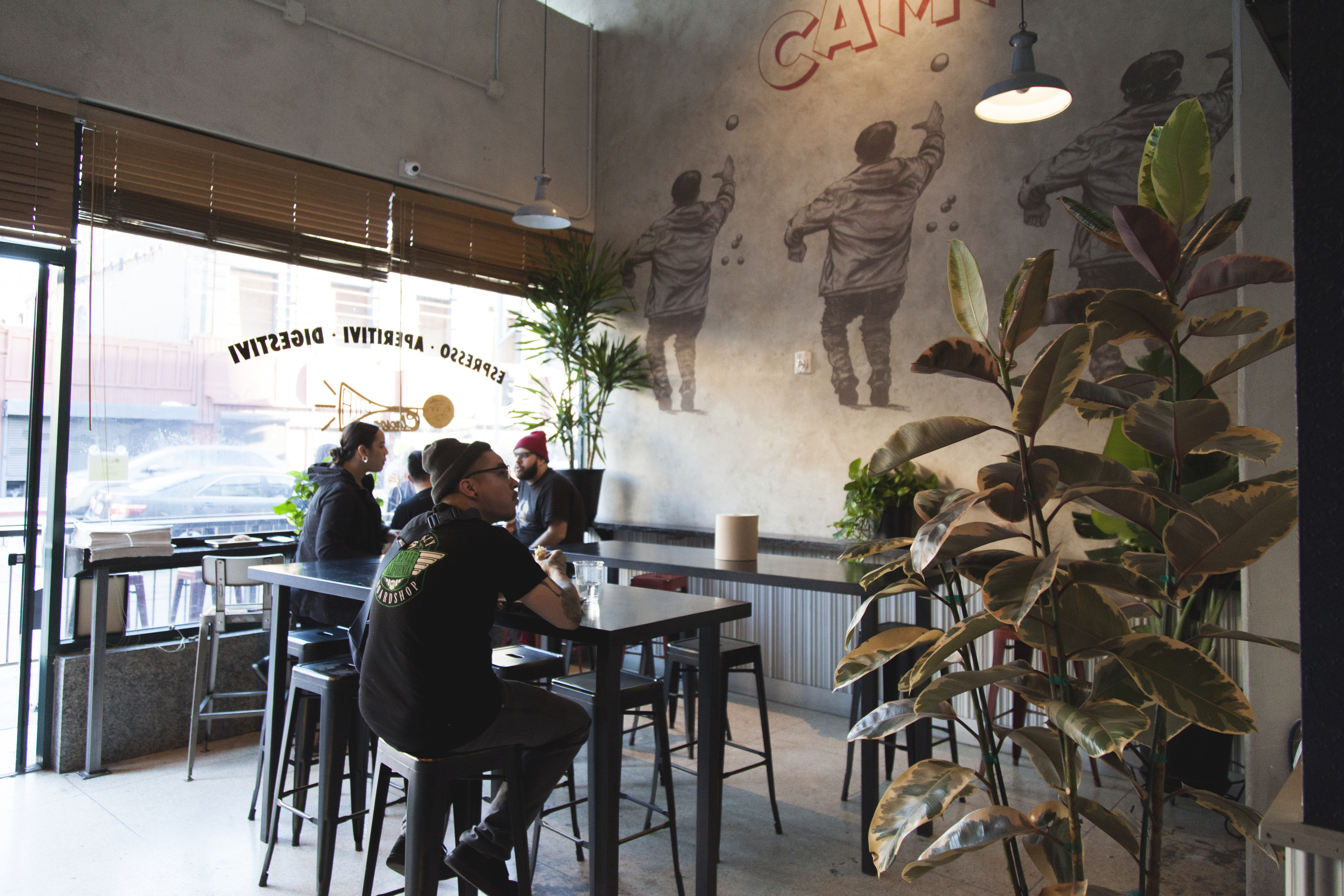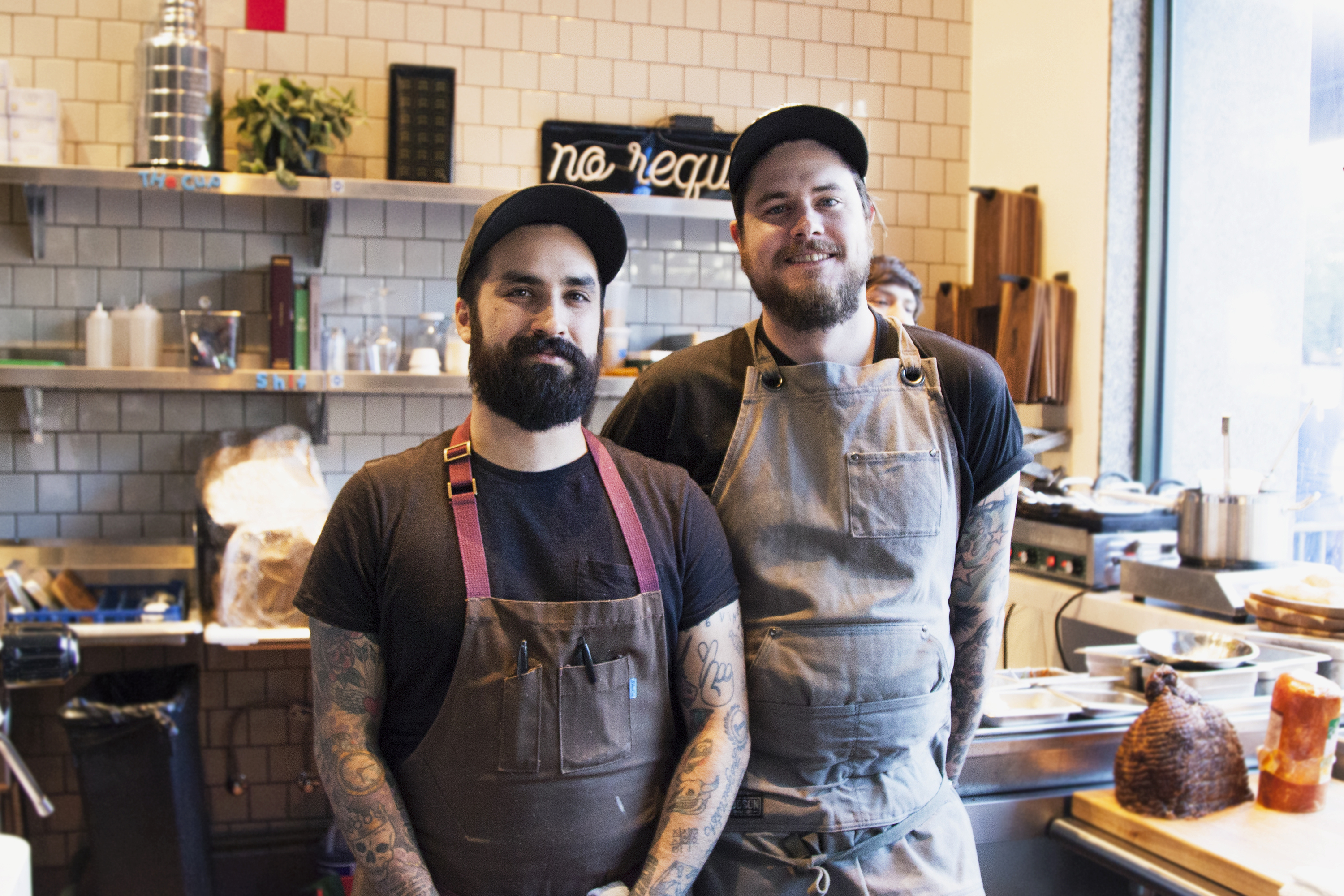 E Stretto is currently soft-open with limited hours, with a grand opening slated for Tuesday, January 8. Find the sandwich shop at the front of Bar Clacson, which is located at 351 South Broadway.
Source: Lifestyle