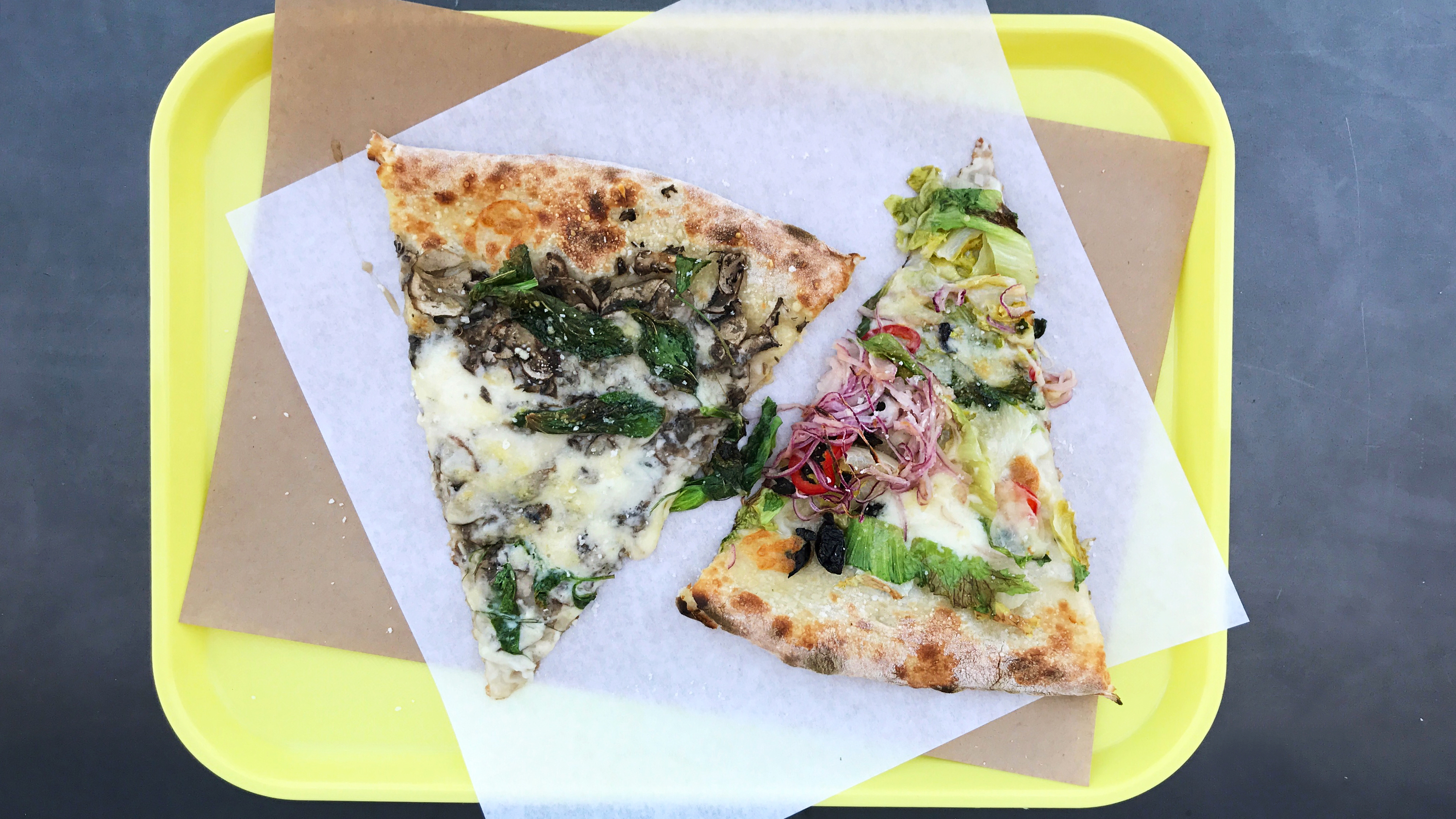 Sotto diehards might've missed Steve Samson's Neapolitan-style pizzas when Rossoblu opened without them, but to those in Downtown still carrying a torch for the Italy-trained chef's award-winning, Mid-City pies, we've got great news: Samson and his wife and business partner, Dina Samson, just launched a new walk-up slice shop in the Fashion District.
Superfine's pizza, available by the slice and whole pie, is a healthy blend of Neapolitan and New York styles—a far cry from Sotto's fork-and-knife variety, with a crisp-bottomed crust forged in an electric oven, though you may recognize some of the same ingredients.
"We did Neapolitan at Sotto, which I love, but wanted to do something with more of a mass appeal," Steve Samson says. "But we didn't want to do a straight-up New York[-style] with like, a picture of the Brooklyn Bridge on the wall. It had to be about L.A. Like our vision was with Rossoblu—where it's an ode to Bologna but it had to be as much, if not more, about Los Angeles—it's the same with this."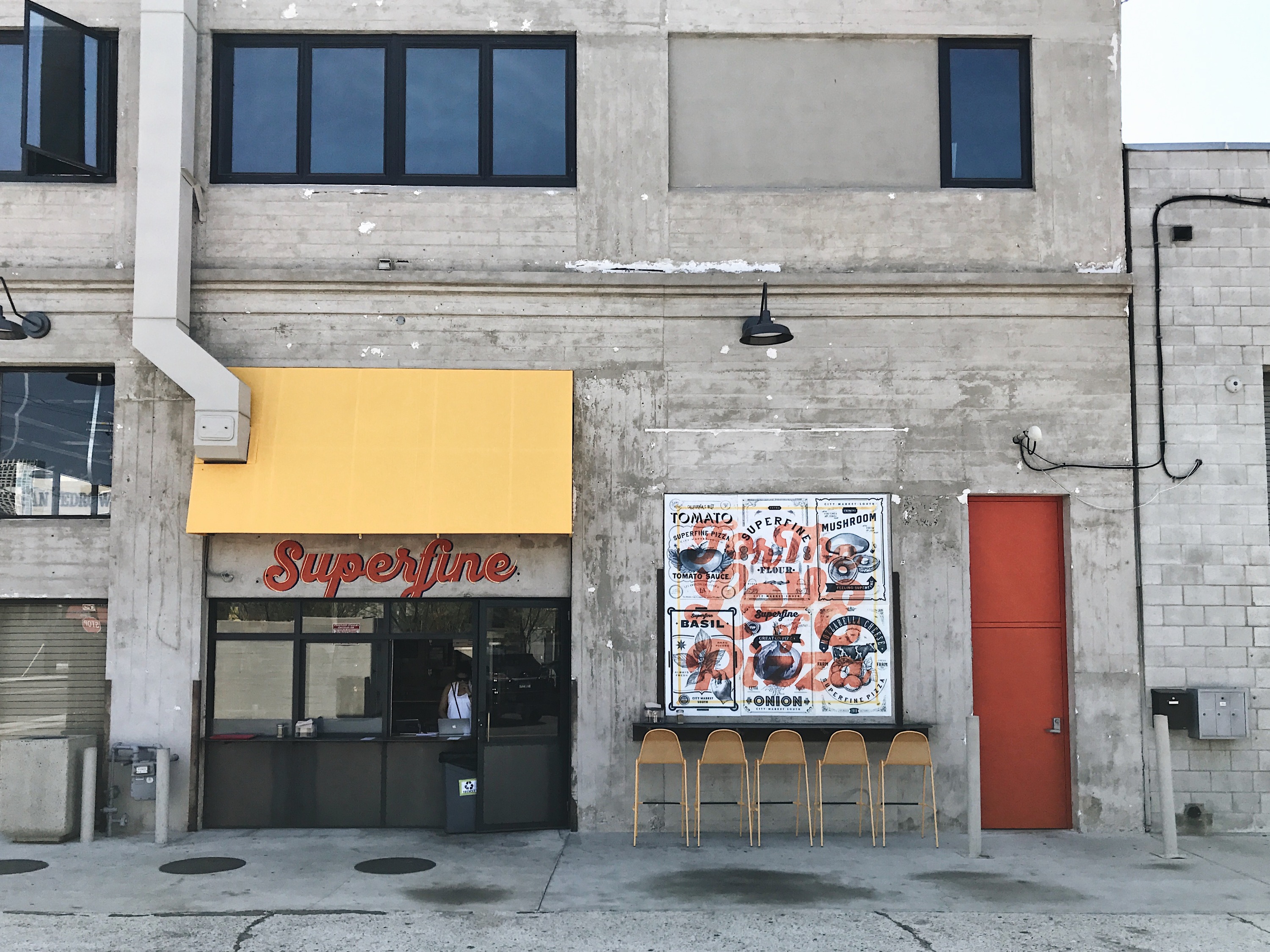 Even the name is a nod to L.A., or, more specifically, its bounty. "Superfine" was inspired by the name of a bygone business—Superfine Produce—and the new slice shop happens to reside in the City Market South development complex: an area formerly part of the oldest produce market in Los Angeles. As such, the menu takes cues from local vegetables, too, extending far beyond your expected cheese and pepperoni slices (though of course they've got those as well).
Because the only kitchen utility is an electric deck oven, chef Samson designed a menu focused on raw ingredients that bake along with the pizza at a sweet spot of around 620 degrees. Seasonal toppings such as escarole, pea tendrils, mint, kale and rapini appear on pre-designed slices and pies, but you can also pick and choose to build your own—with other add-ons like anchovies, salt-cured olives, spicy salami and house-made sausage—for $1 to $4 apiece.
That's not to say things get too fancy; the red-sauce base is nothing but a blend of hand-crushed California tomatoes, olive and salt, and, at least for now, you'll only find around five slice varieties at a time, and that includes a basic cheese, a pepperoni and a vegan option. Slices range between $3 and $4.50, while whole pies will set you back in the ballpark of $20 to $30. For now, the card-only walk-up is open for a four-hour window on weekdays, but in the coming weeks, expect delivery service and late-evening hours.
"We're always looking for what to do next," Steve Samson says, "and for the longest time we just wanted to do pizza like this."
Superfine is now open at 1101 S San Pedro St, in the City Market South complex. Expect limited hours during its first few weeks, currently running 11am to 3pm Monday to Friday.
Source: Lifestyle